Volkswagen confirms Atlas Cross Coupe
August 31 2018,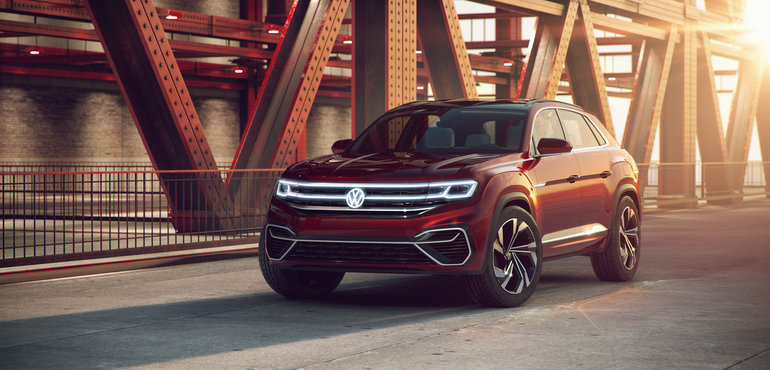 The Volkswagen Atlas Cross Coupe was unveiled for the first time at the New York Auto Show in April as a hybrid engine concept. It seems that the reaction was positive enough that VW decided to turn it into a production model and improve its current SUV lineup.
The Volkswagen Atlas Cross Coupe will therefore become a production model whose arrival is expected in 2019 as a 2020 model. It is not yet known if the Atlas Cross Coupe will have the same hybrid engine as the prototype presented in New York, but a 3.6-liter V6 engine is confirmed.
Few details have been revealed about the Atlas Cross Coupe and even less about the production version. What is known is that the new Volkswagen SUV will be built on the same platform as the current Atlas with three rows of seats. The V6 engine that develops 276 horsepower and 266 pound-feet of torque in the Atlas should offer roughly the same power in the Cross Coupe version.
This model will actually be a sportier and more dynamic version of the current Atlas. It will sit between the Tiguan and the Atlas in the Volkswagen SUV range and will therefore offer one more option to buyers interested in a fun SUV to drive.
We do not yet have all the details on the Volkswagen Atlas Cross Coupe, but as soon as they are available we will let you know!
The Tanoak pickup also announced
In addition to confirming the arrival of the Atlas Cross Coupe, VW has also reiterated its interest in the Tanoak truck. Also based on the Atlas platform, the Tanoak pickup truck would compete mainly with the Honda Ridgeline if it were to enter North America. It remains to be seen if Volkswagen will see the potential of this truck and want to take a chance with it.
In the meantime, contact us today at Turner Volkswagen to learn more about Volkswagen Centre-Ville's vehicles and SUVs.