Each version of the 2019 Volkswagen Golf explained
October 31 2018,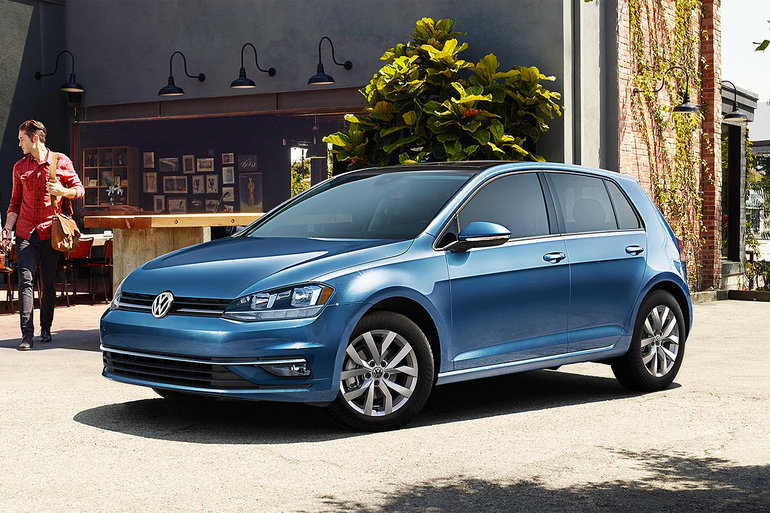 The Volkswagen Golf is a car adored in Quebec. Consumers appreciate its understated but refined silhouette, its impressive comfort, its dynamic and sporty drive, and its unique feeling of solidity.
Quebec tends to like what is European and the Golf is the only European car in its segment. We notice that immediately on the road and this also partly explains its why the Golf does so well here.
The other element that explains why the Golf sells as well in Quebec is the number of versions offered. There are four variations of the Golf, five if we count the all-wheel drive Sportwagen and Alltrack versions.
Volkswagen Golf Hatchback
This is the model we know best. Powered by a 1.4-liter four-cylinder turbo engine delivering 147 horsepower and 184 lb-ft of torque, the Golf delivers more torque than any other compact hatchback in the segment in their basic livery.
This engine also powers the Sportwagen FWD versions. With 341 liters of cargo space, the three or five door Golf is as practical as it is dynamic.
Volkswagen Golf GTI and Golf R
The GTI is the sporty version of the Golf lineup. We know her very well and many have dreamed of driving a GTI. Its 2.0-liter turbo engine delivers 230 horsepower and an abundant 258 lb-ft of torque. Once again, the GTI is much more powerful than the majority of its rivals including the Civic Si.
That said, for a truly sharp drive you can turn to the legendary Golf R. This same turbo engine transmits 292 horsepower to all four wheels and allows the Golf R to reach 100 km/h in less than 5.0 seconds.
e-Golf
We can't talk about the Volkswagen Golf without mentioning the all-electric e-Golf version. Its 99-kW (134 horsepower) engine is powered by a 35.8-kWh battery that allows the e-Golf to travel more than 200 kilometers on a single charge.
In addition to its generous range, the e-Golf is one of the few electric cars to be really fun to drive. Be it its style, its interior or its handling, it looks in all respects like the traditional Golf. The only difference is that it does not fuel.
To find out more about the new 2019 Volkswagen Golf, contact us today at Volkswagen Center-Ville!