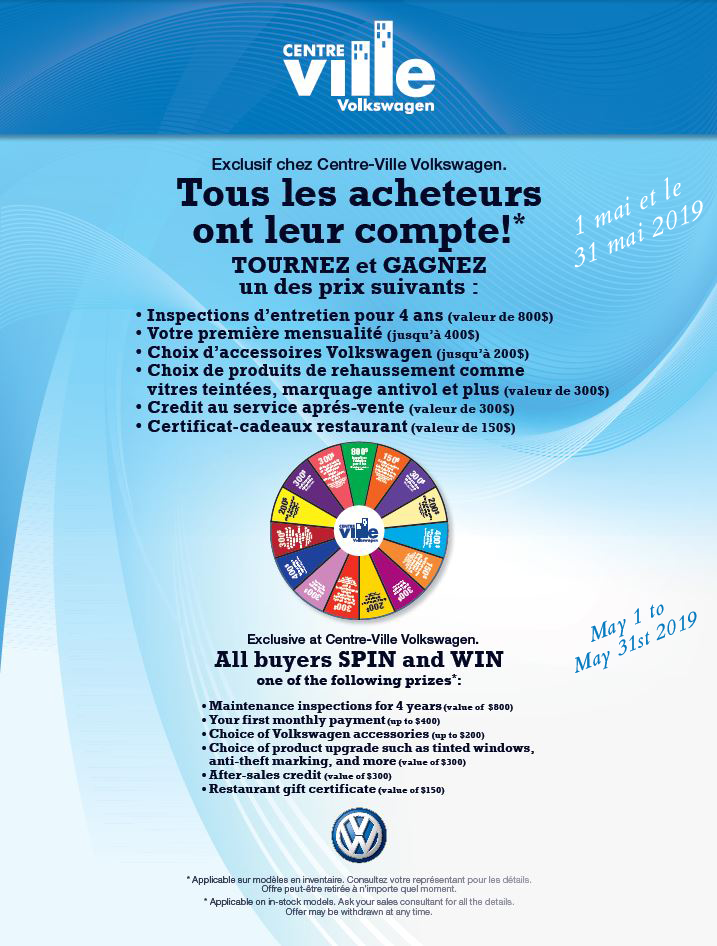 Winning Spin Wheel - get up to $800 in gifts
From May 1st to 31st, SPIN and WIN is back at Centre-Ville Volkswagen.
Rules for Spin and Wheel promotion


- For all buyers or lessors of new or pre-owned VWs purchased from dealer stock at Centre-Ville Volkswagen as of May 1 to May 31st 2019
- Buyer spins the wheel following the signature of the contract and purchase deposit
- buyer spins the wheel with the sales representative and a manager as witness
- buyer accepts that his/her photo may be used for promotional purpose
- the wheel must make a complete revolution
- buyer only has one opportunity to spin the wheel unless the wheel does not complete a full turn
- this promotion cannot be combined with other offers or promotions
- not applicable for previously purchased items
- this offer is non-transferable and not redeemable for cash
- promotion may be withdrawn at any time
- the" Maintenance Inspections" prize covers the warranty period and maintenance inspections must be done at Centre-Ville Volkswagen. This prize is only applicable to a new vehicle purchase. For pre-owned VW buyers, the winner spins the wheel again to win a different prize.
- the "1st Free Payment" prize is applicable for customers who lease or finance their VW with VCCI. Centre-Ville Volkswagen will cover the first payment up to a maximum of 400$. In the case where the winner did not finance with VCCI, the equivalent of the 1st monthly payment is applicable as a after-sales credit. In a case where the car was purchased with no financing, the winner will receive a $400 credit towards after-sales.
- the "Product Upgrade" prize is a $300 credit towards the purchase of products as presented by the Business manager
- the "Gas card" prize is a Petro-Canada product worth $150.
- all prizes must be claimed during 2018 calendar year except for the free inspections prize
- the spin wheel offers 15 prize possibilities distributed as follows: 1 maintenance inspections for 4 years ($800 value); 2 free 1st monthly payments (up to $400); 4 after-sales credits (value of $300); 3 choice of product upgrade ($300 value); 3 accessories prizes ($200 value); 2 fuel card prizes (value of $150)